I love Christmas!
Is that time of year filled with love, gifts, lights, baby Jesus and, of course, many treats. Yummy treats that are hard to resist. But is there a way to enjoy winter holidays while staying fit and healthy? Yes, there is. I sum up few ways to keep your body in shape.
Do more intensive workouts
Don't skip your gym routine, and if you have none now is the time to get it. There is no way that extra calories will just vanish into thin air. You need to put some work and sweat to maintain and even sculpt your body during this time of year. Of course, there is not so much free time available, that's why I recommend doing more intensive workouts (to compensate the fact you do them less often).
If you can't get to the gym at all, do home workouts. Push Ups, squats, jumping jacks, crunches, are just a basic and wonderful example of exercises to train your body at home.
If you are a workout newbie, there are three basic rules: train until failure (Don't just train with numbered sets. Do them until you can't do them anymore), train your whole body (It's best to include all the exercises mentioned above, one each day, so that you train your body entirely. This way you lose weight faster) and train daily or 5 days workout and 2 days time off.
Hydrate properly
Dehydration and gaining weight goes hand in hand. It's especially common in those times of year when we consume a lot of alcohol and caffeine. These have a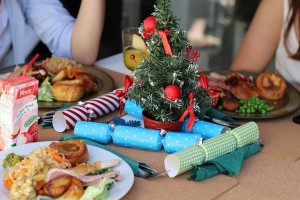 diuretic effect which makes us lose body water.
So make sure you drink a lot of water during this time of year (also try to include slices of lemon in it for better fat burning).
Don't be afraid to say "No"
We all want to be good guests, but sometimes we are offered too much food or types of food we don't like and we know that aren't good for our health. So you can politely refuse what you don't like, argumenting that you are extremely careful about what you eat.
Start your day earlier and have half hour of empowering yourself
In order to maintain your positivity and mental clarity during this holiday season that can be stressful, it's extremely important to start your day by motivating yourself.
Focus on what you want to accomplish in life, what you already have, your goals, your dreams, thank God as you already have them. Meditate, workout, read something positive. Anything that gets you in that perfect state of mind and soul.
Keep your excitement on people and off tables
I am a foody, don't get me wrong. But I think sometimes food gets too much attention and it sparks too much excitement in us.
Nevertheless, it's just fuel for our bodies. And I've felt it on my own, when you don't love people as much as you feel to do it, your first impulse is to fill the gap in your heart with drugs.
Food can be a drug also. So my advice is to focus your attention and excitement towards people. They matter the most, they need it the most, and that will make you feel the best way possible. And let's be honest, we eat to live not live to eat.
Aim for inner peace
Because this is the place where happiness lives. In all this rushed world, where we just respond to outside stimulants, we forget to live, focus and achieve our greatness. That makes us unfulfilled, and this makes us abuse our own bodies.
Junk food, unhealthy drinks, and chaotic meal habits are just a way to self-harm.
Get that peace inside of you. Get connected with yourself, get in that perfect state of mindfulness and gratefulness. You will be happier and you will make more happy those around yourself. And this is why we have holidays, to bring smiles on other people's faces.
Find your smile so you can give smiles.  ☺
I hope you enjoyed this article and leave your comments below. Have a wonderful time with your family, Merry Christmas and Happy Holidays! Love you all. 🎄