Great Deal For All Self-Help Books Lovers
Buy My Book "Building The Life You Want" And You Get 2 More FREE
Hi friend,
I am Cornel Manu, writer with over 10 years of experience and author of 3 self-help books.
And I have a great offer for you today…
I want to give all my 3 books for the price of one.
I know how important is to feed your mind with positive knowledge that helps you change your life for the better.
What we put IN we take OUT.
Like my mentor Jim Rohn used to say…
"What you read pours ingredients into your mental factory and becomes the fabric of your life. Don't read trash and expect to produce good stuff. You may as well make cake out of cement."
But my books are more than a collection of positive thoughts.
I believe in being positive while being practical.
My books have actionable steps that you can apply to your life to achieve your goals.
Because they were written with one purpose only…
To help those that read them have a better life.
Now let's talk about what you get in this deal.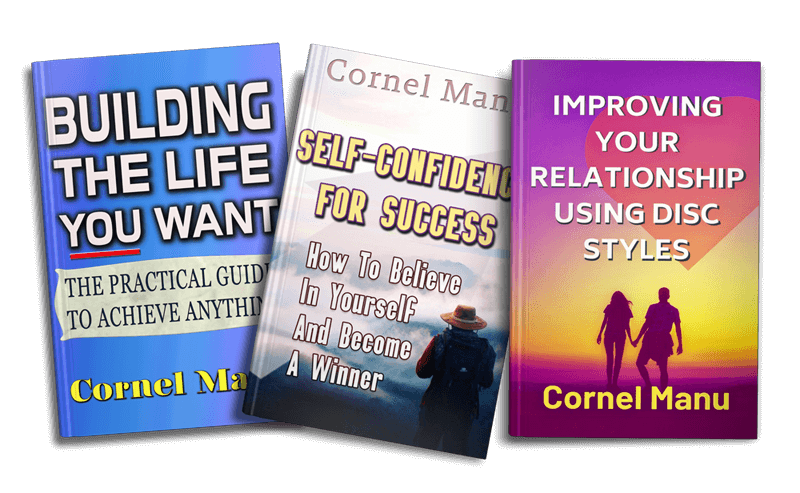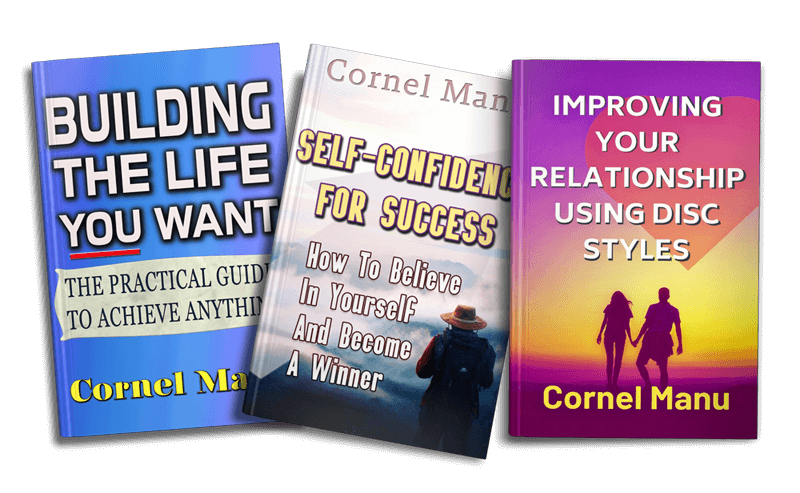 Building The Life You Want - The Practical Guide To Achieve Anything is a book written to help you achieve anything you want.
It is written with simplicity in mind and it focuses on helping you achieve success, as soon as possible. It contains a very easy to apply action plan created to help you make any goal a reality.
Here is what you get on this book:
An action plan that has 7 chapters and it's designed to be applied to any goal you want. Either if you want to lose weight, make more money or have a beautiful loving relationship, you can make it a reality with these 7 steps.
Pearls of wisdom and high-performance habits that will help you elevate your success and make your dream life a reality.
Clarity and precision when it comes to what you really have to do in order to achieve the things you want.
A blueprint that can be used to create anything your mind conceives and your heart desires. It can be used over and over again, whenever you feel stuck or you want to elevate your results.
The opportunity of transforming your life in ways that you couldn't believe possible. All these success strategies have been tested in my personal life and brought amazing results.
━━━━━━━━━▼━━━━━━━━━
Self-Confidence for Success: How to Believe in Yourself and Become a Winner is written to help you tap into your inner potential with the key ingredient of self-confidence.
Being confident like a superhero is a habit that can be learned and this book teaches you how.
No obstacles will look too big for you again and no dreams too hard to achieve. You will be confident to follow your own destiny and be the person you are meant to be, without being dependent on something that is outside of you. And all of this while you are happier and more loving with those around you.
━━━━━━━━━▼━━━━━━━━━
Improving Your Relationship Using DISC Styles is a self-help book that helps you improve your relationship by better understanding your partner.
In this book, you will find all the information you need to identify which personality type is your lover and how you can better communicate with them. You will also learn which personality type you are.
By using the tips found at each DISC style, you can build a more stable and beautiful relationship with your significant other, and you can also avoid unnecessary friction. Not big things are the most common reason for break-ups, it's the little things that add up.
You will improve your relationship and your love life with this book!
__________________________________________
You get a book that helps you achieve any goal you want, one that helps you build strong self-confidence and one that helps you have a better relationship.
You get all of this for $9.99!
Limited Time Offer
350 Pages, 77.000 Words of Self-Improvement Content For the price of $9.99!
*Instant Download After Purchase - PDF Files
Here's what readers think about these books:
"These books are amazing! I've been following Cornel's blog for years, and when I saw this offer I jumped at buying them.

I was stunned by how simple yet powerful they are, and how he managed to simplify goal achievement in Building The Life You Want. All the other systems I've tried were too complex and they made you give up easily.

Self-Confidence for Success helped me identify why I struggled with my confidence and how to fix it. And the relationship one is really insightful to improve your love life."
- Oliver B.
━━━━━━━━━▼━━━━━━━━━
"This deal is awesome. I've been reading self-help books for over 5 years now, but these books are one of a kind. And the price feels like a steal.
I paid more for a coffee and it never helped me improve my life."
- Saron J.
━━━━━━━━━▼━━━━━━━━━
"Cornel knows his stuff, as you can see on any article on AmbitionOasis. These books have so many pearls of wisdom and applicable tips that you have to read them more than once to apply everything."
- Stefan N.
If you are eager to improve your life and live it on your terms, give my books a try.
To your success,
Cornel Manu
PS: If you are not satisfied with my books and they don't help improve your life, you have a 30 days money-back guarantee. Email me at manu dot cornel at yahoo dot com and I'll refund you, no questions asked.