I spend my life trying to motivate people into achieving greatness, but sometimes, I am the one that gets motivated. This is the case of my encounter of Eileen's Instagram account. She is a 46 years old mother that went from 174 kg (383 pounds) diabetic to a stunning 75 kg (165 pounds) of good-looking. I got InstaInspired by her story, even if I didn't know all the details about it.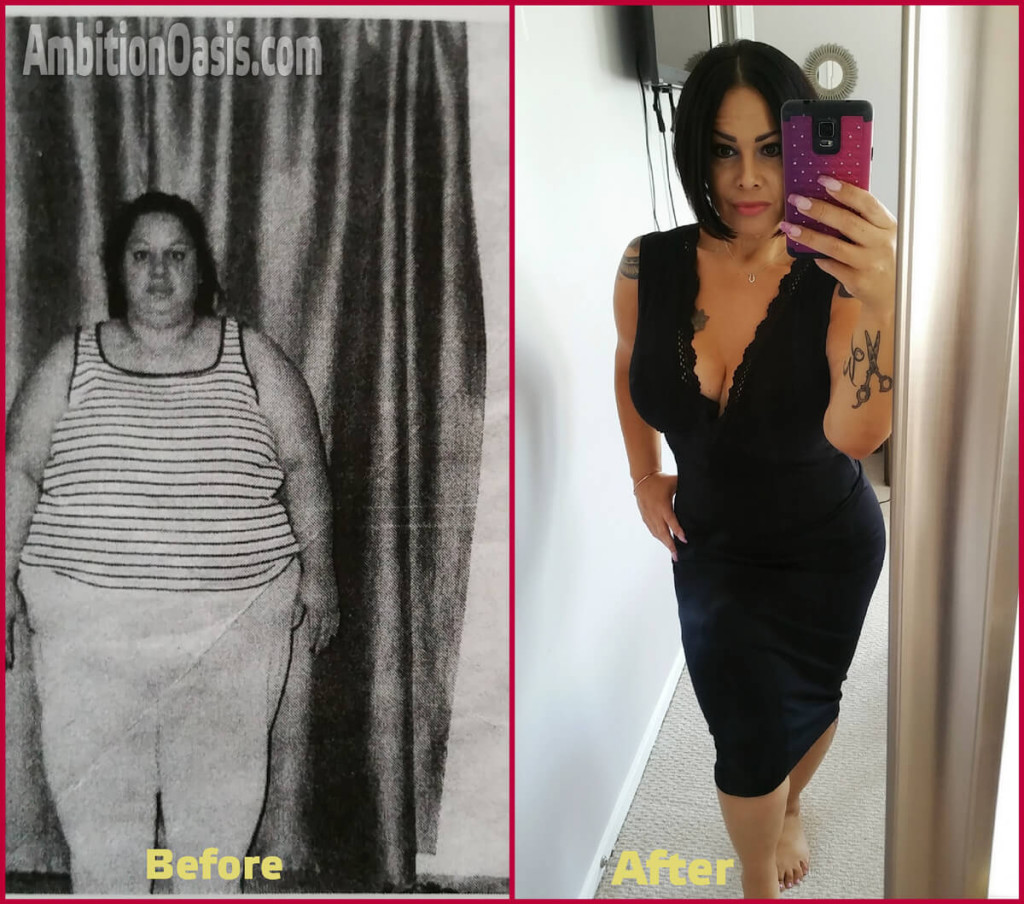 As you can imagine I got very curious about it, and getting over my excitement I contacted her and asked if she would like to share her story with us. She was a sweetheart about it and agreed to inspire us with her incredible life experience.
This interview's intention is to help and motivate people who are struggling with weight problems to get fit and healthy. With proper nutrition and exercises, you can achieve anything. Here's the interview:
Thank you for taking the time to share this with us. Can you please tell us more about you?
Well.. Hello, My name is Eileen, I am a 46-year-old Mother of 3 adult children (my PRIDE & Joy). I've been Married for 26+ years, I am a hairstylist with many interests.
I enjoy listening to Music (different genres), creating various projects through Crochet and Exercising, the MOST (ironically).
What is your current progress (to this date February 3, 2016)?
As to date, I currently weight 164.6 pounds. I am about as close to goal as ever. But my goal isn't a number on the scale, it is a look only fitness can give.
In early 2002 I was at a max weight of 383 pounds. At that weight, my joints were all hurting and I was borderline diabetic and borderline high blood pressure. I tried desperately to maintain activity to try and 'fight" all complications that were associated with obesity. Unfortunately, health and fitness were the farthest things from my mind at the time… I was looking for a quick fix.
What made you decide to change your life?
By February of that year, I had lost 20 pounds exactly through exercising and changing a few eating habits. No more soda being one major change. At that point, my Dr suggested I see a gastric bypass specialist to "help" the process. At her suggestion, I went and weighed in at 363 pounds and began all the testing necessary to prepare me. On March 19, 2002, I had bypass surgery and the weight in that morning of surgery was 332 pounds.
(One of the scariest times of my life. I was 32 years old at the time and had 3 very young children. With that in mind, I went through the surgery knowing that the survival odds from surgery were very bad and I could potentially not survive. At that time 1 in 200 patients were not living through or waking up from this procedure.)
I spent 1 week in intensive care and 2 additional days regular observation. The weight loss went well and fast. But after 100 pounds lost in a 6 month period, my body started to plateau. I did not understand at the time that the "fix" was just a temporary one. You see, they took care of the amount of food I could consume, but what I "wanted and still craved" was a change I needed to make through nutrition and exercise. Unfortunately, I then started to gain weight back because I was still eating junk and had minimal activity.
My surgery was considered a "failed procedure". Was the technical term the Dr. used. That was a difficult blow and I felt like "I" was the failure. After a few weeks of self-pity and research, I was left with the solution that has saved my life. I found out about nutrition and decided to get off my bum and start changing my mind and the way I viewed food. At this point It was almost 2 years after the surgery.
January 19, 2005, I made a conscious commitment to myself to change one bad habit at a time, no matter how long each change took to make.
How you managed to accomplish losing this much weight?
I am slightly amused at myself and laughing as I am typing this because the one thing that I fought for years now where I have experienced the most growth and loss, simultaneously.
My metamorphosis started in the kitchen and learning to eat and what worked for me and my task at hand. Like I mentioned before, I started changing one bad habit at a time and incorporating a good one in exchange. I live in always sunny southern California and decided to be active outdoors, taking daily walks and hiking.
It took me 2 more than years to lose another 75 pounds and reached my biggest and longest plateau. By 2007 I was feeling pretty good and on a path that was slow, but very gratifying because I believed it to be permanent. And as slow as it was, I DID NOT QUIT, I kept moving forward.
In march of 2010, I was experiencing lots of knee, hip and ankle pain. After several tests and discussions it what the cause of it could be, I was told that I had several Meniscus tears and needed surgery to repair them. In May of that year, I underwent the knee surgery and was told in the recovery room that my knee was pretty destroyed and at the age of 40 needed a full knee replacement. Needless to say, I was heartbroken and crushed, after the recovery was physical therapy. Once again, I was in a crossroad of giving in or fighting.
I decided to fight. I found a Dr and sports injury specialist, a physical therapist that once was a competitive bodybuilder. He, as a Dr was extremely knowledgeable in nutrition. We changed a few more things in my daily diet and started to incorporate target exercises to strengthen muscles. At that point, I was weighing 210-225 pounds. That's the weight I could never surpass.
After 4-6 weeks my knee started to feel stronger and so did my other joint pain. He said that all the years of being so heavy was the reason for this, but also told me "DON'T QUIT" and I will get better.
I love the outdoors and secretly was ready to join a gym and move forward, but there was still the issue of the last meniscus tear to be repaired.
On November 16, 2014, I made a new dedication to myself and started eating and consuming as minimal fats and processed foods as possible, this also included ANY artificial products. 3 weeks into it, I noticed my joint pain went down significantly, and I started to work out more to prepare for the second knee surgery. I DIDN'T QUIT.
In February of 2015, I weighed 198 pounds at weigh in before my surgery and was so happy to repair it.
Within 6 weeks I was in Therapy and on my way AGAIN. And on March 19, 2015, 14 years after my first attempt, I stepped it up in the gym.
I know you've worked very hard for this and you definitely worth the results. Can you tell us how this physical change impacted your life?
In all of this, there have been MANY changes. The biggest being physical changes. Skin does NOT shrink nor go back once it has been stretched to its limits. Mental changes are very necessary as well and VERY different, but they go hand in hand with the physical.
To date, I have had 1 breast skin reduction surgery and 1 reconstructive surgery.
I have had 1 Panniculectomy (with the first bypass, 25 pounds of skin was removed from my abdomen that was just hanging causing rashes and various skin issues). I tummy tuck to remove the excess skin after I lost 165 pounds and a skin removal surgery from my arms, all done at least 5 years ago. I was worried that I'd need more surgeries but with daily fitness, I have been able to tone some of what I was worried about.
This has become a delicate topic for me because it was all just loose skin and looked like swag curtains in certain areas, not a pretty sight.
I've had to learn to target train certain areas and has helped tremendously, but ultimately, not all will go back to normal.
To be honest with you, I think of it less and less, as I am starting to see it getting smaller and in some areas, shrinking on is own, but I am in the "rebuild" stage in this process, so I will give it time to see what it will do on its own.
I am EXTREMELY happy with my current status and more so, happy with myself. I've had lots of mentors, supporters and critics along the way and I appreciate them. They have challenged, encouraged and made me mad enough to get off my behind and prove to myself that I CAN DO THIS!
The fitness side of it has shown me how to redirect my focus and bent up the energy to a positive and the nutrition to not allow myself to be an emotional eater. I no longer eat fast food on a daily basis. I treat myself. After I've put in the work for a week, ill eat small meals as usual. I have 5 small meals daily, well-balanced and don't snack on anything that is unnatural or not fresh.
I'm still a somewhat, private person but now I am so much more confident and outgoing. I've also learned to say NO to anything that hurts me either physically or mentally, I think that's been one of the biggest lessons. (Oh, and patience.. hahaha, BIG LESSON there, as I wasn't patient with myself, my growth and the progress.)
As the last question, what would you tell someone who is struggling to lose weight? Any piece of advice?
I would love to run up to everyone that I see struggling or in the middle of their journey, and say: "DON'T QUIT. DON'T GIVE UP!"
I know I'll be in police custody if I do that, haha 😂.
I NEVER quit.. although I gave up constantly. There were WEEKS, endless weeks I would have to START over, and OVER and over again.
The weeks I couldn't change anything physical, I concentrated on something internal; i.e., nutrition or a positive change, or simply took my eyes off myself try to help others, in any way possible.
Life is ALWAYS going to get in the way or test your path, but DON'T STOP. Slow down if you must, just DON'T QUIT.
Also, each one of us is an individual and what worked for someone, might not be the recipe for everyone. Listen to your body, truly see how each change will affect you before you make a new one. One day at a time, like walking, one foot in front of the other.
Your future is waiting for you. Only YOU (individually) hold the key. The door is called fitness, it encompasses nutrition and health. It's up to you to find the key and unlock the possibilities.
Final note: This was an amazing interview and I can't thank her enough for taking the time to share little pieces of her amazing life. I hope you guys were inspired as much as I am, and I will leave you her Instagram if you want to congratulate her personally. 
As for Eileen: keep being awesome!