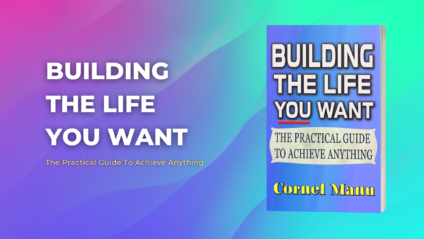 Are you ready to take control of your life and turn your dreams into reality? Look no further than "Building The Life You Want – The Practical Guide to Achieve Anything." This groundbreaking book is designed to help you unlock your full potential, providing you with the tools and strategies to create the life you've always desired. With a clear and easy-to-follow action plan, pearls of wisdom, and a tested blueprint for success, this book will empower you to achieve anything you set your mind to.
A Comprehensive Action Plan for Success:
"Building The Life You Want" presents a practical action plan comprising 7 powerful chapters. Unlike generic self-help books, this guide is specifically designed to be applied to any goal you wish to achieve. Whether you aspire to lose weight, boost your income, or cultivate a loving relationship, these actionable steps will guide you towards tangible results. The comprehensive nature of the plan ensures that you have a roadmap to success, regardless of your objectives.
Pearls of Wisdom and High-Performance Habits:
Elevate your success with the pearls of wisdom and high-performance habits shared in this book. Drawing from personal experiences and extensive research, the author provides invaluable insights that will empower you to reach new heights. Learn how to cultivate the mindset of a high achiever, adopt success-oriented habits, and overcome obstacles that stand in your way. By integrating these powerful principles into your daily life, you will supercharge your progress and achieve extraordinary results.
Clarity and Precision: Your Path to Achievement:
One of the key strengths of "Building The Life You Want" lies in its ability to provide clarity and precision. Rather than offering vague advice or unattainable ideals, this book breaks down the necessary steps to achieve your goals. By gaining a clear understanding of what you need to do, you can direct your efforts effectively and efficiently. Say goodbye to confusion and uncertainty as you gain the confidence to pursue your aspirations with purpose and determination.
A Blueprint for Unlimited Possibilities:
Imagine having a powerful blueprint that can be applied repeatedly to create the life you desire. With "Building The Life You Want," you gain access to a flexible and adaptable framework that can be customized to fit your changing goals and circumstances. Whenever you find yourself at a crossroads or seeking to elevate your results, you can refer back to this invaluable resource. The blueprint empowers you to manifest your dreams and realize your true potential, one step at a time.
Conclusion:
The time to start building the life you want is now. With "Building The Life You Want – The Practical Guide to Achieve Anything," you have the ultimate resource to unlock your potential and transform your life. Embrace the specific disciplines and strategies outlined in this book, and witness the incredible results that await you. Success is not a secret; it's a journey of consistent action and dedication. Take the first step towards your dream life today!