A wedding is a beautiful moment but challenging at the same time. On the one hand, a couple approaches the other level of relationships, which is awesome. On the other hand, the bride and groom are a little bit confused since they are not aware of what to expect from their spouse in the future.
They love each other, hope that their future will be bright, they give promises, celebrate, and when the first obstacle appears in their way, their world might be torn apart… In order to protect a couple of incoming difficulties, it would be better to know how to prevent the issues out of the experience of other women. It is much wiser to learn from the mistakes of other people, than on your own.
Here are the comments from ordinary citizens and tips helpful for a couple before achieving the status "Just Married":
Plan your future together:
"Before we got married, we loved each other that much that we did not think about anything else. He often told me: "I love you" and we were happy together.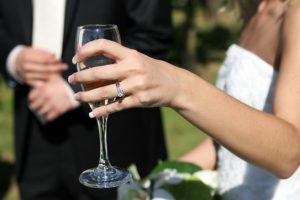 He gave me a lot of presents, we chatted a lot in a social network. He was from Australia and I was from the U. S. A. He owned his business in Australia and soon moved back there. I remained to stay in the U.S.A. Later I took a plane and arrived at his place of residence. He begged me to stay with him, but I did not since I had no friends and connections. Well, actually we did not plan to move to his country. So, I turned back to my native city. Now we live in different corners of the world. We are still married, but there is a distance between us. Now, we both do not know what to do: to live together somehow, or divorce?"
Elizabeth, 29
Planning the future together can help prevent many upcoming problems. Knowing your way beforehand is possible to save your marriage if it is needed. It goes without saying that it's not about your marriage…but….still.
Get to know your partner's core moral principles:
"You know, I used to live according to the principle that I will have intimate relationships only after marriage, but at that time I did not love and had no relationships. Then I met a man I loved so much that I thought I was also loved. He became my first man before marriage. I DID NOT PROTECT MYSELF. However, he left me after getting to know that I was pregnant from him. I don't care if anybody tells me anything about this. I think that sex SHOULD BE ONLY AFTER MARRIAGE.  Our grannies lived according to this principle and their families were stronger than they are today. They respected each other and were more responsible".
Clarissa, 30
It is really important to know each other way of thinking and what they believe in. For example, some people think that intimate relationships are acceptable only after a man puts a ring on a finger and they should look for a spouse who has the same opinion as they do.
Be honest and share the information about your health state to your beloved before marriage:
"After marriage, I got to know that my husband has attention deficit and hyperactivity disorder (It is a neurotic disorder of development, which appears in early childhood. The symptoms of it are difficulty concentrating one's attention, hyperactivity, and hardly managed impulsiveness.) He kept on singing like: "My love, you are my only one, you are cooking…" When he saw a cat, he began to sing about it, like: "Oh, a cat is approaching…" When I was doing the washing, he was singing. Then he confessed that in the childhood singing helped him to cope with attention deficit and hyperactivity disorder. It finally helped me to understand him."
Eva, 24
So, it would be better for you remain open to each other in advance to avoid awkward situations and confusion in marriage life. It is much more right to show the truth at the last step of your relationships before marriage proposal than to face the truth after it.
Try to keep social balance and remain equal in status:
"I got a master's degree in engineering and worked for an oil company. I had a stable income. He was a cook in a restaurant. I believed that one day he would become an owner of a restaurant. He text me every day: "You make me happy" or "You make me smile". To tell the truth, we were happy. We got married. I got a promotion at my job and earned three times higher than my husband. Then, I got promoted again. He never succeeded in his career, unfortunately. He was a cook and that's it. I was tired of his promises to buy a new flat and we divorced."
Catherine, 32
Before you get married, it's high time for you to figure out whether you suit each other. Being on the same level of income will help you keep your marriage protected. "Perfectly, man and woman's income is better to be either similar, or a man should earn just a bit more", the experts say.
If you still want to get married, good for you. Don't be afraid to figure out the truth before you get married. It's better to face the reality beforehand than to cry out loud at the end. In such a case, you have some extra time to prepare. Invest some part of your today's activity in research and you will only benefit out of it.
Preparation is the mother of success. One popular singer told: "The more I work, the more successful I become". The rule is exactly the same for happy couples before marriage. Just work on the success of your marriage, sow the seeds of wisdom earlier to reap the fruits of happiness earlier.
Now is your turn. Did you find these simple commentaries useful? What gem of wisdom did you get from this article? Share it with us in the comments below.