When I started to consume green tea a year ago I already knew about its immense popularity, and I've read green tea has been named the healthiest drink of Earth. Now I can't imagine my life without. It totally helped me sculpt my body, gain more energy, be happier and get rid of those years of toxins that I've had. I feel amazing and look amazing. But why is green tea so healthy? You will find out in this article.
Green tea originates from China and has been used in Asian medicine for thousands of years. Either if getting that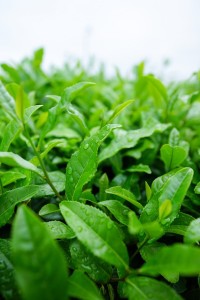 layer of fat burned down, keeping the heart healthy and pumping or maintaining that young-looking skin, this herbal tea has benefits for almost anything you can imagine. Also, green tea is an alkaline drink, so it helps boost up the PH level in your blood to fight acidic eroding caused by most of the foods we consume these days, like those with a high content of sugar, flour, and meat. Green tea is made from the leaves from Camellia sinensis and it's steamed in hot water. Black, oolong, white and yellow tea are also made from this plant, but due the fact that green tea is less processed it has the most nutritional value.
It is highly packed with antioxidants, potassium, magnesium, B vitamins, caffeine, manganese etc. You can take almost all dieting supplements and you will see they have green tea extract because green tea and weight loss are BFF. You can replace your normal beverage with this highly nutritional tea and enjoy its amazing benefits (avoid drinking it with milk in it, because milk removes a lot of its powerful nutrients). Here is a list of 30 benefits that green tea brings you.
Green tea and weight loss. Green tea boosts up metabolic rate and prevents the deposits of fat in your body with the help of polyphenol. Its content of caffeine also plays a major role in weight loss. If you add at least 3 cups per day of this healthy drink to your diet you will see amazing results. You can also enhance it with lemon and ginger to make it, even more, healthier.
Helps you fight Osteoporosis. The high fluoride content enhances the bone healthiness and makes them strong. Osteoporosis causes the bone density to drop and make them weak. So this drink helps you with that.
Heals stomach disorders. Again, Polyphenols plays a major role in treating several digestive ailments. It speeds up the digestion process, relieves bloating by neutralizing gas from the digestive system, it helps you get rid of stomach ulcers by drinking cold green tea and it helps with getting rid of stomach flu, cramps, and inflammation.
Prevents Alzheimer. Alzheimer's disease accounts for 60% to 70% of cases of dementia. It is a chronic neurodegenerative disease that usually starts slowly and gets worse over time. Green tea is proven to have protective effects for neurons. The content of caffeine and L-theanine boosts up cognitive performance, and therefore, improves the thought process.
Keeps your heart disease-free. The huge amounts of antioxidants reduce the bad cholesterol levels and increase high-density lipoprotein (good cholesterol) levels in your body. Daily consumption of green tea reduces the risk of a heart disease.
Treats depression. Green tea can help you relax your mind, reduce physical stress and relieve depression because it has theanine. Uplift your daily mood with a cup of this beverage.
Anti-cancer. The green tea prevents the growth of tumor cells with its pack of antioxidants called catechins. So it helps you protect against all types of cancer : colon, esophageal, breast, bladder, colorectal, stomach, lung, prostate, ovarian and skin. A cup of green tea a day keeps cancer at bay.
Deal with diabetes. There is a positive effect on diabetics that green tea has. It improves insulin sensitivity and reduces blood sugar levels in patients with type 2 diabetes.
Helps you get rid of warts. Green tea's antioxidants make wonders for healing warts. You can drink 2 or 3 cups of green tea daily to help you. Or, if you want a more direct approach, steep in near-boiling water a green tea bag. Let it cool down then apply it for 10-15 minutes directly on the affected part of your body. This will help you get rid of warts.
Dental and gum care. This highly beneficial tea helps you cut the build-up of bacteria that produce gum swelling, plaque and other dental problems.
Detoxifies your body. Green tea contains polyphenols that help your body get rid of free radicals that can cause cells damage because of their toxicity. This beverage is a great detoxifier.
Stabilize blood pressure. This is caused by the flavonoids that green tea has. Daily consumption of this tea normalizes blood circulation, prevents blood clots and relaxes your blood vessels.
Relieves arthritis. Because green tea has anti-inflammatory properties , will give a relief against the inflammation that comes with rheumatoid arthritis.
Boost up your immunity. The content of the antioxidants called polyphenols , found in green tea, reinforces immunity. It will destroy the flu virus, will protect your body against free radicals and other bacterial infections.
No more bad breath. Because green tea contains natural fluorides and have an antibacterial effect, will help you get rid of bad breath, treating it from dental area to stomach.
Fights urinary tract infections. Green tea increases the number of good bacteria and kills the bad bacteria from your urinary track system so it helps you keep it healthy.
Optimise eyesight. Our eyes absorb the antioxidants found in green tea so it neutralizes the free radicals. Add that to zeaxanthin, lutein and vitamin C and E contained in this drink, and you have the best guard of your eyes tissues against glaucoma and other eye diseases.
Allergies treatment. The content of a very powerful antioxidant called epigallocatechin gallate (EGCG), which blocks chemicals that produce allergies, makes green tea a good solution to keep at bay allergies.
Reduce the potency of asthma attacks and helps your lungs. Your bronchial tubes are supported by theophylline found in green tea. Although the amount of it is small, it certainly is noticeable an improved lung capacity. I've been a smoker myself and I felt the difference when starting to drink green tea. It also helped me to quit easier and revitalize my lungs.
Keeps you young. Green tea is rich in antioxidants, which helps the skin maintaining its healthy young look. Aging is produced by the harmful effect of free radicals, so more antioxidants you have the younger you look.
Treats your sunburn. The anti-inflammatory properties of this plant can help you reduce the effect of sunburn. Make some plain green tea and let it cool down. Soak a clean cloth in it and use that as a compression on the affected part of your skin.
No more puffy eyes. The big amount of vitamin K found in green tea helps you reduce dark circles and puffy eyes. Place two cotton balls dipped in cold plain green tea, on your closed eyes and keep them there for 20 minutes.
Treats acne. Green tea has catechins, an antioxidant that reduces the stimulation of skin hormones and fights acne. A green tea mask makes wonders for your face. Say bye-bye to pimples in a natural way.
Treats split ends. Panthenol, which is found in green tea, has been proven to prevent the apparition of split ends. Even more, this tea contains vitamin C and E that acts as a healthy conditioner. Boil 1 liter of water and add to it 4 green tea bags. Let it cool down for one hour and use it to rinse your hair.
Skin exfoliate. Green tea can be used a natural scrubber. Blend 3 teaspoons of yogurt with 1 teaspoon of green tea, then massage your skin gently with it. Wash it off after 5 minutes with slightly heated water.
Healthy nails. There is a stack of nutrients and antioxidants found in this tea that prevents brittleness of your nails and make them stronger. Make an herbal decoction from dried green tea leaves and soak your nails in it.
Tones skin. You can wash your face with plain cold green tea and then rise with chilled water. Because of its anti-inflammatory properties is a natural skin toner.
Stimulates hair grow. Because of its vitamin C, E and polyphenols content, green tea can stimulate hair growth from the root of the hair. You can use an herbal decoction from it to rinse your hair after shampooing, and drink green tea three times a day for a better effect.
Stop the hair loss. Catechin, a natural phenol and antioxidant found in green tea, stop hair loss and reduce the growth of  Dihydrotestosterone (commonly abbreviated to DHT), the hormone that causes baldness. There is also antibacterial properties in green tea that keeps at bay many hair problems.
Dandruff treatment.  You can get rid of dandruff by rinsing your head with green tea. It will prevent dandruff flakes by exfoliating the scalp.
There you have it, these were 30 health benefits of this amazing plant or the answer to the question: why is green tea so healthy? I am sure there are much more than we don't know yet, so make sure you add 3 cups of green tea to your daily diet and see amazing improvements.