It's obvious that any kind of income is welcomed. It's easy to make money online because these days we spend a lot of time surfing the web; it's a good investment if we learn easy ways to bring some extra cash in our pockets. These methods you are about to read are methods I've personally used myself, that I know they are safe and simple to apply. If you have a Paypal account you can withdraw from all of them.
Making money online is a business in itself, it has a lot of possible ways and sometimes that might be confusing. I am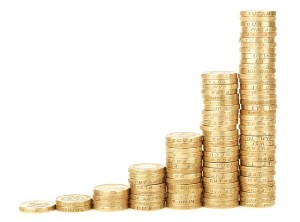 compiling only those methods that are easy to do, even if you don't have any experience and you can master them fast.
One thing that I want to add is that there is no quick way to make money, either online or offline. These methods require work and getting better at them, but with proper dedication, combining them and in time can bring money even on auto-pilot. The key is to choose something you like doing it and stick to it.
1. Shorten links and get paid for it
Adf.ly  – I use it to shorten links and get paid. You don't even need a website or blog, you can simply shorten the links you share on social media. Each time somebody visits, they will see an advertisement with a skip button  after 5 seconds, and you will be paid for each visitor. The most paid are visitors from USA that brings you $4 per one thousand visits. It might not sound like much, but bringing more referrals and combining its entry scripts and popunders for a website or blog that you have, it will steadily increase your income. Payments are sent monthly. If you want to register click here. It works great with download links and other types of offers that people will not find otherwise than following your link!
2. Monetize your blog or website traffic
Having a website is the most common way to make money. It's like having your own store open up , even if you just provide information and not actually selling something. You can have a blog by free at Blogger or WordPress , but I usually recommend the small investment into having your own paid domain. First of all, it's easy to rank on Google with your own custom domain yourdomain.com , because at these free services you get subdomains like yoursub.wordpress.com, and subdomains are much harder to rank in search engines. Also, there is the fact that you have to comply with their services Terms, so if you want the freedom you just chip in a few bucks. I personally use Site5 – hosting starts at $ 4.95 / month and you get a 30-day trial.
After you decided which way you go with your blog , choose what niche you want to post about. It must be fun for you! You can do anything you like, starting from posting cat pics , cooking recipes or your traveling experience. With dedication and hard work your website will start to bring a lot of traffic. How do you monetize it? I have two recommendations:
Infolinks : They  have in-text ads, slider ads and another type of non-intrusive advertisement. The great thing about them is that they have ads based on what your visitors are looking for. So they are very targeted ads.
PopAds : The best popunder advertising network. They have great rates and daily payouts. If you don't mind displaying popunders this is an easy way to monetize your traffic.
If you want to display banner advert there is, of course, AdSense , but they are very pretentious on what type of content you are publishing. Also having a reputation of locking accounts and payments without too much explanation. That's a reason I've never used them. For displaying ads without problems you can use AdHitz , but they don't allow adult or gambling content. For adult and gambling content, simply go with JuicyAds, they are the best in that industry.
3. Create YouTube videos
This is the most fun way to make money online. If you like to make videos with yourself, about product reviews, record yourself playing games or maybe you can sing covers of famous songs, this is the way to go. Don't lose time with any other video sharing websites. Just make sure you watermark your videos properly so when other people re-upload your videos, you can still get credit for them. YouTube pays you with Adsense, for ads displayed on your videos. There is one demand: you have to make your own content. You can't take other people's videos and monetize them.
4. Sell what you don't need on Ebay
There are a lot of stuff we might never use again but other people might be interested in buying them. So auctioning them online is a good way to chip in some quick bucks. Some people even make a living buying and selling, because they keep looking for good offers that they buy and they re-sell for a commission.
5. Sell your pictures online
If you are passionate about photography you can easily sell your pictures online. Again, they must be your pictures and make sure to be high quality. If you meet these requirements, you can sell them on iStock or ShutterStock.
Bonus: Get traffic to your website or to your social media accounts
It doesn't matter what type of monetization are you choosing, you will eventually going to need more traffic. I am going to give you two free ways to get more traffic. One is for a website or blog that you have, and the other one is getting more social likes / follows / comments etc.
Free traffic exchange: EasyHits4U is the best free traffic exchange service. It basically works on credits, credits that you get visiting other websites. Then you can use those credits to get visits or ads displayed while getting prizes and getting • $0.30 for 1000 pages viewed; • $0.10 for every person you refer; • 40% from purchases made by your first level referrals. It's a pretty cool service, it has 1 million registered users at this time and it will definitely grow. The good thing about their traffic is that it's always human (they have the best anti-bot defense ever made) and you can get as many as you want to visit other websites or simply buying credits. If you want to try them out click here.
Free social activity: Like4Like works on the same principle as EasyHits4U. You give other people likes, comments or follows, and you get credits for that. You use that credit to get anything you want in return! It works with Facebook, Twitter, YouTube, Instagram, StumbleUpon, SoundCloud, Pinterest. It's amazing and it's free, but you can buy credits if you want. Join them to get more follows, re-tweets, likes, comments, subscribers : click here.
There you have it! Quite a bit long, but I hope it's comprehensive enough even for new users. Always remember: it's just about the dedication you have. It's not quick to start earning money online and it won't grow overnight without work, but with proper applying and studying it will make you more money. Some people even get rich using simple methods like this. Always remember to stay honest, never try to cheat and work hard to see it pay off.